Asylum seekers and refugees often suffer from poor mental and physical health as a result of traumas they have faced at home and as a consequence of the asylum seeking process. Isolation exacerbates these issues.
Since 2014, with the support of Big Lottery funding, DIAL Doncaster has been able to work closely with Doncaster Conversation Club to support asylum seekers and refugees to: feel included; have more confidence; increase their knowledge and improve their feelings of wellbeing.
We have provided craft sessions at the Doncaster Conversation Club's weekly drop in, which has seen annual attendances rising to over 6000 and this number continues to increase. We have organised and facilitated events and visits, delivered a multiple mini-series of training sessions and facilitated user led workshops run by volunteers with attendances reaching nearly 100 for a single event. As a result of the feedback and consultation with asylum seekers, refugees and volunteers from the Doncaster Conversation Club many events have run more than once.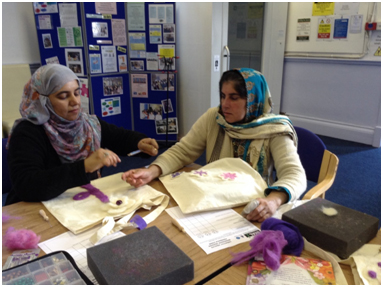 A Weekly Craft Session


Examples of what we have been involved with include:
First Aid sessions run by the Red Cross

Christmas Bowling

A series of 6 cooking classes run by volunteers from the asylum seeking and refugee community where delicious good from around the world was enjoyed including various Sri Lankan curries with aromatic rice, curries from South East Asia, Chicken and flatbreads from Albania, Chinese noodles and dumplings, Syrian sausage and chicken dishes and a traditional British fish pie.

3 Country dances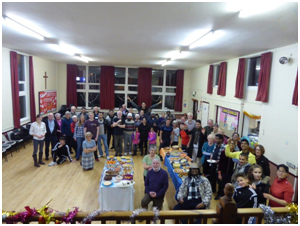 Country Dancing
"Wonderful, the world dancing! Smiles from everywhere, food delicious. Body, mind and spirit fed. Thank you"
"……When you hear the music you don't feel tired anymore"
Annual Kayaking and BBQ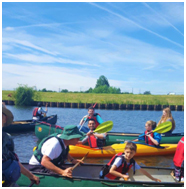 Summertime Kayaking
"It is a fruitful trip especially for asylum seekers and refugees, far away from their motherland, separated from family, mother, father, sisters and brothers, we are traumatised, but this trip made us happy. It is better counselling for our depressed feelings"
"After a long time it was my first time out with many people in this occasion, organised by those wonderful people. For me it was like I came in a really peaceful world today. Where the main object was: have fun; laugh; enjoy and that's what I did with the help of these wonderful people. This day will be in memories now."
Swimming sessions throughout the time of the project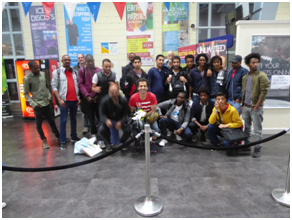 A swimming session
"Thank you for this journey of enjoyment and we hope to repeat this journey Thank you I love you"
"I was swimming, it was very exciting fantastic, I hope come here again."